Our Bathroom Remodeling Services
As the smallest room in the house, a remodeled bathroom must be designed with just the right balance of comfort, function and beauty. Perhaps you are looking to create a luxury master bath retreat that doubles as your own private spa, or maybe your bathroom needs updating for the safety and ease of your growing family.
Whatever you are looking for in bathroom remodeling, Abisso will create custom bathroom designs specifically for your needs. Our team of experienced craftsmen will ensure that every detail from bathtubs, showers and bathroom vanities, to bathroom tiles and flooring are expertly installed for your lasting enjoyment.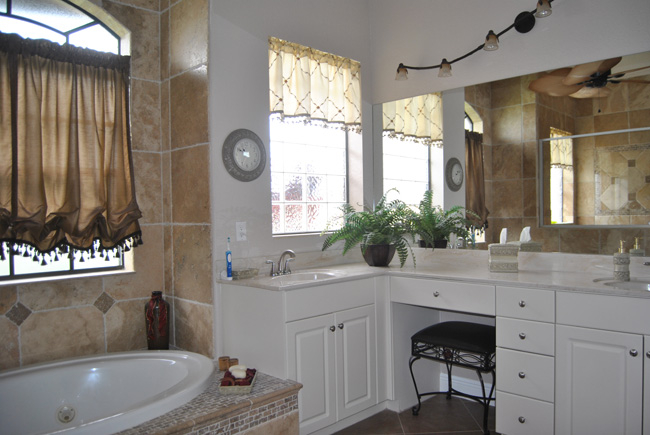 Step 1 – Consultation
At Abisso Remodeling we know that taking those first steps can be a challenge, that's why we've made getting the ball rolling as easy as possible. Just pick up the phone and call us, or, if you're eating a sandwich, email us. One of our remodeling consultants will be happy to hear more about your project and arrange for a free on-site estimate. An Abisso Remodeling expert will come to your home, walk through what needs to be done and prepare an estimate based on the presented scope of work. At Abisso Remodeling we're not in the business of sending out estimates that we know will get us the job, we're in the business of getting you an accurate estimate for what your project will cost to be done RIGHT, by licensed and experienced craftsmen.
Step 2 – Design
Every customer starts at a different stage of design, some people come to Abisso with magazine cutouts and three-dimensional mock-ups already in hand, others, with a simple desire to stop stubbing their toe every time they step into their shower. Whatever your vision may be, Abisso's design will help you achieve it. Lastly, our design will work within your budget and spatial limitations to optimize every inch of your living space with materials and layout considerations that represent your aesthetics while improving the value of your home.
Step 3 – Prepare
In most cases, aspects of the preparation process go into effect during the design stage. All of the documents required to begin production are filed with your county or the city while our design team expedites the delivery and storage of your materials. This ensures that once all of the appropriate paperwork has been approved, our production team is ready to get rolling. Abisso's family of plumbers and electricians, tiling specialists and lighting guru's coordinate the installation of every facet of your scope of work. This equates to a seamless realization of your plan with the fewest possible delays. Abisso prides its self in efficiency, we know how frustrating it can be when you're on a tight schedule and you hear that indecipherable delay or cancelation announcement at your airport. With Abisso you'll never get derailed by late start dates or materials that are out of stock, we've quelled the qualms of some of Florida's best, ensuring that your ideal renovation project is an express ride away.
Step 4 – Production
Abisso's recipe for success through the years has been equal parts inspiration and perspiration. Let our licensed and insured team of craftspeople show you what they're made of, making your dreams come true is what Abisso is all about. Don't let the website or thousands of likes on various social media platforms fool you, Abisso is still very much a father and son team that know that we're only as good as our last job. Advertising in Architectural magazines is expensive, at Abisso we believe that it's far more cost effective and stress free to simply focus on making sure that every single project will deliver us referrals and down the line, repeat business. The KBR team is comprised of every conceivable artisan necessary for every type of home remodeling project, that means your project will be completed on time, within your budget and without worry.
Step 5 – Completion
Our builders have transformed your living space for the better, increased the value of your property and made your life significantly more comfortable, functional and visually representative of your character. Now, it's time to enjoy it! Before we quietly exit stage right we'll make sure that any minor final adjustments are taken care of, we'll leave your home in better condition than we found it, complete with a custom clean-up on the final day of work.